KEY DECISIONS IN PUBLIC USE AND JUST COMPENSATION

PREREQUISITES TO THE TAKING
Utah: As long as taking is for the birds, not the environmental plaintiffs, it's a public use
In Utah Dep't of Transp. v. Coalt, Inc., the Utah Supreme Court considered the public use of a taking instituted after a federal court upheld an environmental challenge to the Environmental Impact Statement (EIS) prepared by the Utah Department of Transportation (UDOT) for its Legacy Parkway Project and enjoined highway construction. In the middle of the protracted federal litigation, UDOT and the environmentalists settled. The settlement called for "additional measures to protect the wetlands and its wildlife inhabitants from the effects of the Parkway."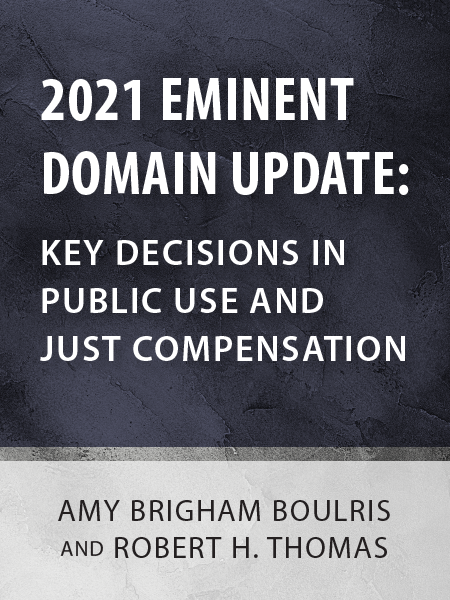 One of those measures? Get additional mitigation property for the Legacy Nature Preserve. Guess whose property was, as a consequence, now slated for eminent domain? You guessed it — Coalt's. Coalt objected to the taking, "arguing that UDOT did not have the authority to condemn Parcel 84 because it was not doing so for a transportation purpose or a public use, but to settle third-party litigation and mitigate a future unspecified transpiration project." The trial court rejected the argument, and the court of appeals affirmed, as did the Utah Supreme Court.
The court held that the statute authorizing UDOT to take property for highways includes a provision allowing for acquisition for mitigation of impacts from public transportation projects. In other words, UDOT's authority is not limited to taking property for highways but includes taking property to offset the impacts from highways. The court concluded that the fact that "UDOT agreed to take the additional mitigation property as part of a settlement is not legally relevant in and of itself. What matters is the purpose of the taking." The environmental litigation had a public purpose:
The very focus of the federal litigation was the question of what steps were necessary to minimize the environmental impact of running the Legacy Parkway along the wetlands of the Great Salt Lake. UDOT believed the 2000 EIS provided sufficient environmental protection. But the public interest litigants disagreed. The litigants did not advance a private, personal agenda. Rather their arguments centered on the sufficiency of the environmental impact statement.
---
The Practical Real Estate Lawyer
CLICK HERE to read the full article, which was originally published in ALI CLE's The Practical Real Estate Lawyer.
Subscribe here to the print or digital version of The Practical Real Estate Lawyer today and get hands-on advice and solutions to real estate law dilemmas.
---
Interested in hearing more from the authors?
Join us for our upcoming program, Eminent Domain and Land Valuation Litigation 2022 either in-person or via live webcast from January 27-29! Hear more from Amy Brigham Boulris, Robert H. Thomas, and more experts in the field. Learn more about this upcoming program here.