REQUIRING OUTSIDE AUDITORS TO DISCLOSE CAMS MAY HAVE UNINTENDED CONSEQUENCES
Generally accepted audit standards (GAAS) require an auditor to communicate significant findings from the audit to those charged with governance in the entity being audited, which includes the audit committee of the company's board of directors (AU section 380). The PCAOB's standard on auditors' reports (AS 3101, as amended for audits for fiscal years ended December 15, 2020, and thereafter) takes this a step further, and requires disclosure of critical audit matters (CAM) in the auditor's report.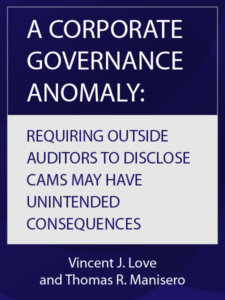 A CAM is defined as a matter arising from the audit that was communicated (or required to be communicated) to the audit committee and that relates to accounts or disclosures that are material to the financial statements. As described in the PCAOB's standard, CAMs are essentially equivalent to the matters that must be communicated to those charged with governance under GAAS. Determining whether a matter rises to the level of a CAM involves especially challenging, subjective, and/or complex auditor judgment. The crucial point is that the PCAOB requires their disclosure in the auditor's report, making it a public disclosure for which the auditor, not the corporate governors, is responsible.
A BURDEN SHIFT?
By requiring disclosure of CAMs in the auditor's report, the PCAOB has established a new standard for auditors to publicly report on matters that can be highly sensitive and judgmental. Setting aside the auditors' ethical responsibility of confidentiality—which is directly challenged by this new disclosure obligation—whether a matter rises to the level of a CAM, and whether the disclosure of a CAM is sufficient are going to provide fodder for litigation against auditors under the federal securities laws. From a corporate governance perspective, the PCAOB rule effectively shifts the burden of disclosure of such matters from those charged with governance to the outside auditor. Management and the board of directors are responsible for any and all judgments and subjectivity included in an enterprise's accounting and financial reporting, as they should be, because the entity's officers and directors are in a better position to appreciate and disclose any material items in the financial statements that involve especially challenging, subjective, or complex judgment. The auditor undoubtedly must exercise reasonable judgment when auditing these financial disclosures, but it is management who determines how the underlying transactions are recorded. Reporting to the public about the quality of the financial reporting should remain with management.
---
The Practical Lawyer

CLICK HERE to read the full article, which was originally published in ALI CLE's The Practical Lawyer.
Subscribe to the print or digital version of The Practical Lawyer today.