Press Release from Newswire.com – DENVER, November 9, 2021
Owners' Counsel of America (OCA), a national association of experienced eminent domain lawyers is pleased to announce that Nina Sawaya, a second year law student attending Denver University Sturm College of Law, will be the first recipient of the Toby Prince Brigham OCA Scholarship. Created in 2021 following the passing of OCA's founder, Toby Prince Brigham, the scholarship is designed to inspire the next generation of lawyers to take up the cause of protecting and defending private property rights, a cause that Mr. Brigham fought for on behalf of countless property owners during the entire 54 years of his eminent domain law practice.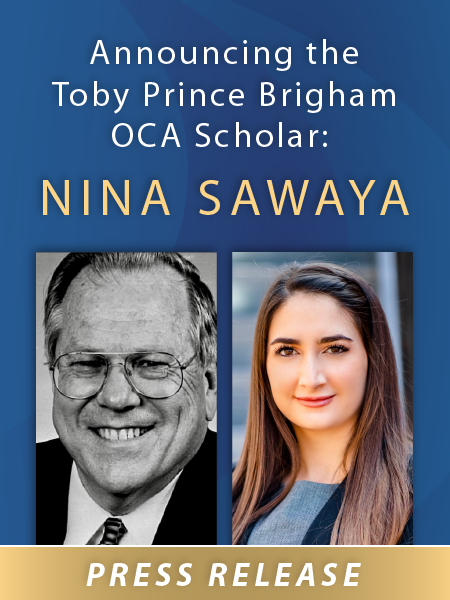 The prestigious Toby Prince Brigham OCA Scholarship offers the opportunity, at no expense, for a U.S. law student to meet, learn from, and network with the nation's leading eminent domain and property rights lawyers through attendance at the pre-eminent property rights conference in the country, now approaching its 40th year. Held annually at different locations, for 2022 the ALI-CLE Eminent Domain and Land Valuation Litigation Conference will take place Jan. 27-29 in Scottsdale, Arizona.
Click here to read the full press release.
If you, or someone you know, may be interested in applying for the Toby Prince Brigham OCA Scholarship for next year, please contact Leslie Fields, Executive Director of OCA at ownerscounsel@gmail.com or by phone at 303-806-5155.