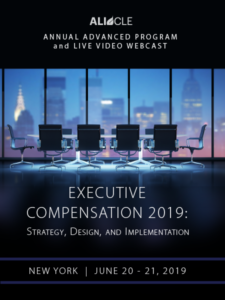 New York, NY, June 7, 2019. American Law Institute Continuing Legal Education (ALI CLE) has announced that Executive Compensation 2019: Strategy, Design, and Implementation will be held on June 20-21, in New York City. This year's conference features faculty comprised of former government, business, legal, and technical experts from across the country.
Authoritative speakers will examine the most salient executive compensation issues, including whether (and when) the SEC is likely to complete its Dodd-Frank Act compensation-related rulemaking and the growing influence of institutional investors on executive pay and disclosure issues.
Other conference topics include:
The ongoing challenges of dealing with Section 162(m)
Section 83(i) and its impact on private company equity awards
Director pay litigation in Delaware
#MeToo, reputational clawbacks, and executive pay
Blockchain and using digital assets as compensation
"We are particularly excited about this year's program agenda," said planning co-chair Mark Borges, a principal at Compensia, Inc. in San Francisco. "In addition to timely presentations on a number of familiar topics, including the latest developments from the key regulators and ISS, we will be introducing several new topics that are sure to be of interest to attendees, such as the compensatory aspects of digital assets, advising tax-exempt entities on their compensation practices under new Section 4960, and structuring pay arrangements for pass-through entities."
To learn more about this program and to register for the in-person course or webcast, click here.