A lien on nothing. That is exactly what a leasehold mortgagee fears it will get when it accepts a ground lease as collateral for a commercial mortgage loan. The lease might terminate prematurely and destroy all of leasehold mortgagee's collateral, leaving the leasehold mortgagee with a lien on precisely nothing.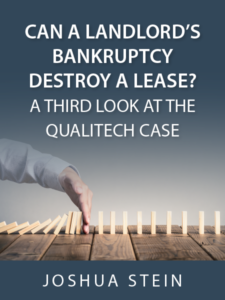 A long-term tenant shares similar fears, but leasehold mortgagees worry more than tenants. That's because, among other things: (i) leasehold mortgagees have less control over the situation than tenants do; (ii) lenders typically have more money at risk than their borrowers; (iii) lenders' internal procedures (and often regulators) focus on risk identification and mitigation; and (iv) lenders always worry more about everything than do equity investors, even though equity investors know they must look ahead to the worries of lenders if they want to obtain financing, which of course they always do.
Leasehold mortgagees, tenants, and their attorneys thus demand that leases include extensive leasehold mortgagee protections to prevent landlords from terminating leases too easily or too quickly. Leasehold mortgagees do anything they can to eliminate all risk of premature termination of the lease, building in leasehold mortgagee protections that range from the obvious to the arcane.
Many leasehold mortgages proclaimed the sky was falling in 2003, when the Seventh Circuit issues its decision in Precision Industries vs. Qualitech (Qualitech). Qualitech caused an uproar in the leasehold lending community because the decision—the details of which will follow—could be interpreted to give a bankrupt landlord a hitherto unknown way to destroy a lease. Specifically, Qualitech would potentially allow any landlord/debtor to sell the premises to a third party free and clear of the lease and without compensating the tenant for the loss of its lease. Commentators opined rapidly and widely that the potential for such sales would cause a disaster for leasehold mortgagees. The mere possibility of this risk scared at least a few lenders away from accepting leasehold mortgages.
The Practical Real Estate Lawyer
CLICK HERE to read the full article, which was originally published in ALI CLE's The Practical Real Estate Lawyer. 
Subscribe here to the print or digital version of The Practical Real Estate Lawyer today and get hands-on advice and solutions to real estate law dilemmas.