In theory, turning over control of a community association from the developer to the homeowners should be relatively easy. The governing documents advise when transition occurs, the date arrives, and then the developer delivers a bunch of documents to the homeowners and exits, stage left. But that's not the way it necessarily goes, nor is it the best way to handle the transition of control in every situation.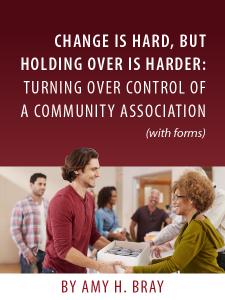 Ideally, the election of the community association's board of directors by the homeowners is the end of a process that began with the sale of the first lot in the development, or to be even more intentional, from the moment the governing documents for the community association were drafted. There are two things you should keep in mind for dealing with transition: preparation and process. These form the foundation of a strong and well-defined exit strategy for the developer.
Focusing on preparation and process can assist one through the transition, and it can help limit serious liability concerns. So why are preparation and process important? Because turning over a community association is almost always the last thing on a developer's mind, until it's time for the election! A developer is often more focused on permits, supply, labor, construction budgets, construction loans, sales, and more, as immediate needs of the business during that time period.
It is possible, too, that in some situations, the homeowners may also resist taking over control for a number of reasons, such as: (i) concerns about the condition of the common areas; (ii) concerns over perceived defects in the community (e.g., lots, drainage, condition of roads, or condition of amenities); and (iii) concerns that arise because of a lack of understanding about how the association works. By preparing for turnover and following a set process, a developer can minimize these problems in transition, and the homeowners can come out of the transition period feeling like they have a well-developed community.
---
The Practical Real Estate Lawyer
CLICK HERE for the free download of the full article, which was originally published in ALI CLE's The Practical Real Estate Lawyer.
Subscribe here to the print or digital version of The Practical Real Estate Lawyer today and get hands-on advice and solutions to real estate law dilemmas.