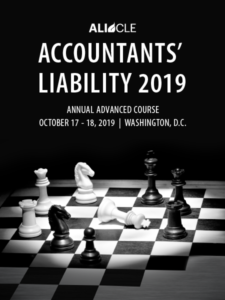 Washington, D.C., August 21, 2019. American Law Institute Continuing Legal Education (ALI CLE) has announced that Accountants' Liability 2019: Strategies for the Profession in an Era of Heightened Enforcement will be held on October 17-18, in Washington, D.C. This year's conference features a keynote by Stephanie Avakian and Steven Peikin, Co-Directors of the SEC Division of Enforcement to address the latest developments and priorities at this important agency.
This course covers the changing laws, principles, and liabilities shaping this field in addition to offering attendees the chance to meet with peers and expand their pool of resources. Co-chairs Veronica E. Callahan of Arnold & Porter LLP and Junaid A. Zubairi of Vedder Price, P.C. have developed this program to provide accountants and their firms with a resource for keeping up with regulatory standards.
Topics of discussion include:
Challenges presented by audits involving emerging markets, including cannabis and cryptocurrency
Secondary liability for aiding in scheming under Section 10(b)
Litigation update, including the latest on cases involving Rule 102E
"We are so pleased to have as our keynote speakers the co-directors of SEC enforcement, Stephanie Avakian and Steve Peikin, who continue the great tradition of senior officials speaking on the most significant issues facing the accounting industry today. Junaid and I have also worked hard to add new speakers and panels addressing emerging issues and trends affecting the profession from a regulatory and litigation perspective in addition to discussing the challenging GAAP and GAAS issues confronted by practitioners day in and day out in this high exposure environment," said Planning Co-Chair Veronica E. Callahan.
To learn more about this program and to register for the in-person course or webcast, click here.