"If you find yourself in a fair fight, you didn't plan your mission properly."
Colonel David Hackworth, 1930-2005.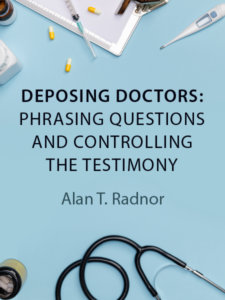 Some contrarian legal writers claim leading questions are not practical or especially effective. I disagree. Leading questions—those that suggest an answer—have the benefit of presenting your argument in cross-examination and controlling the doctor. Sparring with the doctor without leading questions is a recipe for failure because you lose control and it is the doctor's answers that become the testimony instead of your questions. Compelling the favorable answer is what cross-examination is about. The best way to do that is to use leading questions.
Varying the way you ask leading questions is important. There is more to asking leading questions than beginning each one with, "Isn't that correct?" "Isn't that right?" or "Isn't that true?" It will become monotonous if you do not vary questions. You can and should ask some non-leading questions. But when the testimony is crucial and the client's interest is at stake, leading questions are required.
---
The Practical Lawyer

CLICK HERE for the free download of the full article, which was originally published in ALI CLE's The Practical Lawyer. 
Subscribe to the print or digital version of The Practical Lawyer today.