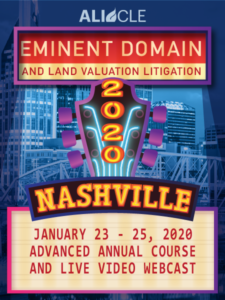 American Law Institute Continuing Legal Education (ALI CLE) has announced that Eminent Domain and Land Valuation Litigation 2020 will be held on January 23-25, 2020 in Nashville, TN. The only CLE event for eminent domain practitioners with a national focus and reach, this conference features new topics, customizable content, and valuable networking opportunities, all in the heart of Music City.
Practice area experts will be coming from across the country to represent the diverse stakeholders in these disputes, including land owners and government agencies and other condemning bodies. Judges, appraisers, consultants, and law professors will round out the prestigious group of over 60 speakers sharing their knowledge and experience with attendees.
Topics of discussion include:
The aftermath of Knick v. Township of Scott
Water rights and takings
How to try and settle pipeline cases
America's housing crisis and property rights
Passive takings by government inaction
Creative approaches to solving difficult appraisal problems
Establishing the date of valuation in director and inverse cases
"We have assembled what we think is a very good faculty that includes some old hands and familiar faces, but also includes a whole bunch of people who have not been on the faculty before, and some really good, very timely topics," said Robert Thomas, planning co-chair and director at Damon Key Leong Kupchak Hastert, L.C. in Honolulu. "It's a really neat program. I encourage you to come and join us. We have fun, and everybody's welcome."
To learn more about this program and to register for the in-person course or webcast, click here.