Washington, D.C., September 11, 2019. American Law Institute Continuing Legal Education (ALI CLE) has announced that its annual advanced conference, Employee Benefit Plans of Tax Exempt and Governmental Employers 2019, will be held on October 24-25, in Washington, D.C.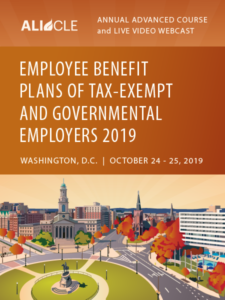 This year's conference will address the latest developments impacting benefit plans designed for the public and nonprofit sectors. In addition to private practitioners and in-house counsel from major financial services organizations, attendees will have the opportunity to hear directly from representatives from the DOL, IRS, and the Treasury Department as they provide up-to-date briefings on what their agencies are working on. The program will also provide a plan "check-up" by looking at common compliance and administration issues and the steps that can be taken to prevent and correct them.
Featured topics of discussion include:
SECURE Act and other potential pension legislation
Developments with open MEPs (multiple employer plans)
Legislative and other changes for health plans (including the HRA expansion) and the impact of the new disability plan regulations
Modifications to the IRS determination letter moratorium
"Our faculty is the top subject matter experts in the country with extensive practical experience discussing the latest issues," said planning co-chair Greta Cowart of Jackson Walker LLP. "The panel format provides a way to hear multiple perspectives on issues impacting employers and benefit plans. The program includes case studies that analyze real world issues and applications. The government guests attending provide insight into the regulating agencies perspectives. This is a unique program looking at the latest developments and issues."
To learn more about this program and to register for the in-person course or webcast, click here.