Washington, D.C., October 11, 2019. American Law Institute Continuing Legal Education (ALI CLE) has announced that Environmental Litigation 2019 will be held on November 14-15, in Washington, D.C. This course covers substantive law in addition to the skills needed to litigate an environmental case from commencement to trial. Instruction is accomplished with a unique mix of presentations, panel discussions, and live demonstrations from a nationally-based faculty of experienced private practitioners, federal and state government attorneys, environmental advocates, and judges.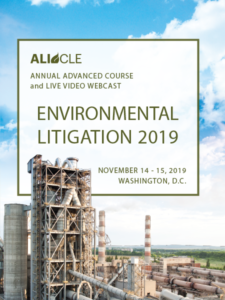 During this two-day conference, attendees can look forward to a variety of timely and practical topics, including effective trial tactics, key environmental cases to watch, and dual perspectives in CERCLA and natural resource damages litigation. Additional topics of discussion include:
Emerging contaminants
Care and "feeding" of experts
Impact of Auer and Chevron deference when litigating against the government
"This program is a must for lawyers who litigate, or want to litigate, environmental law – whether from the perspective of government, private practice, in-house counsel or NGOs," said Planning Co-Chair Daniel Riesel. "It offers a unique blend of judges and experienced practitioners from different practice areas distilling important practice issues and strategies. The program is a remarkable learning experience for environmental litigators."
To learn more about this program and to register for the in-person course or webcast, click here.