Phoenix, AZ, August 28, 2019. American Law Institute Continuing Legal Education (ALI CLE) has announced that Estate Planning for the Family Business Owner 2019 will be held on October 24-25, in Phoenix, Arizona. This year's conference addresses the very specific requirements of a family business and its succession planning needs, covering estate planning while weaving in tax and business structure issues that are critical to changing family businesses.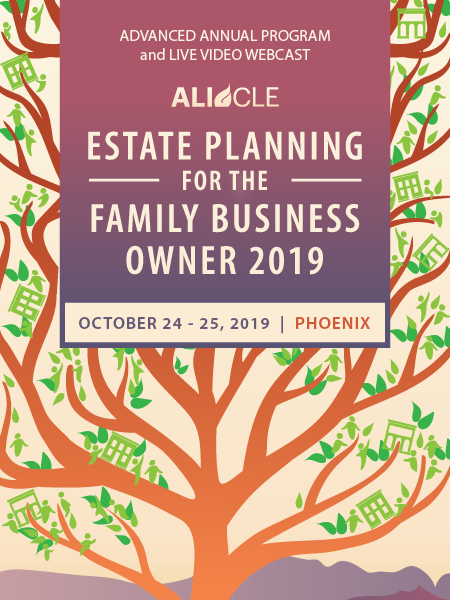 Topics like income tax, business reorganization, life insurance, and trusts will be addressed by knowledgeable faculty who offer a cohesive, in-depth discussion steeped with proactive planning tips. Additionally, this course hosts a faculty Q&A on the morning of the second day, giving attendees the chance to gain a deeper understanding of these topics and come away with actionable takeaways to immediately apply in their practice.
In addition to perennial favorites including buy-sell agreement best practices, valuation considerations, and cash-out and reorganization solutions for family rivalries, this course will also cover hot topics, like:
Anti-clawback regulations
State fiduciary income taxation
Charitable assignment of income
Opportunity zones
"In representing Family Businesses, professional advisors need to be knowledgeable regarding income taxation and business structuring; motivation, economic and non-economic, of key non-family employees; transitional options, and pitfalls when moving business ownership and control to Next Gen; and estate tax reduction," said Planning Co- Chair, Michael Bourland. "In this Program we will explore how tax reform affects these issues, including the regulations on the 20% deduction for pass-through entity business income, the multiple trust rule, and the transfer-for-value rule (and, for those attending in person, an off-camera 30 minute question-and-answer session about various Family Business topics). With extraordinary speakers addressing these issues, this is the only National Program whose focus is Family Businesses and the myriad challenges the Businesses and their Owners face daily."
To learn more about this program and to register for the in-person course or webcast, click here.