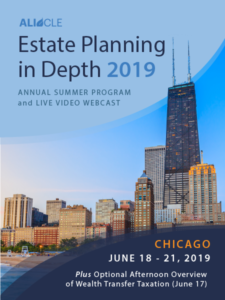 Chicago, IL, June 4, 2019. American Law Institute Continuing Legal Education (ALI CLE) has announced that Estate Planning in Depth 2019 will be held on June 17-21, in Chicago, IL – a new venue after many years of being held in Wisconsin. This year's conference continues the same multi-day format, allowing faculty to explore current developments and today's most pressing estate planning issues.
This renowned summer conferences promises a deep dive into the practical matters that estate planners face every day and delivers strategies and techniques that can be put to use immediately. In addition to the full course, an optional half-day session on Monday provides foundational knowledge or a refresher in trusts and estates law or wealth transfer taxation.
Conference topics include:
The psychology of intergenerational wealth transfer and planning
Exploring the family dynamic as part of due diligence
Neutralizing an imbalance of power between spouses and motivating the next generation
Strategies for the blended family
Overview of Section 199A and Choice of Entity in 2019
"The conference provides an opportunity to focus on the collision of interests between lawyers and settlors, beneficiaries and fiduciaries, and even among beneficiaries—an area often missed in traditional estate planning and trust administration programs. Those attending will witness new and vital topics in fiduciary litigation, such as the viability of tortious interference with inheritance claims and the "ins and outs" of offshore trust disputes. Panels will take a hard look at managing difficult beneficiaries and the efficacy of changing the situs of trusts. Topics will range from new developments in fiduciary litigation to the constitutionality of state trust taxation. This course offers a learning culture: it both encourages personal connection and challenges opposing views to yield to logic-based resolution," said co-chair, Stuart Bear, Chestnut Cambronne P.A., Minneapolis, Minnesota.
To learn more about this program and to register for the in-person course or webcast, click here.
For press and media related inquiries please send us an email at media@ali-cle.org.