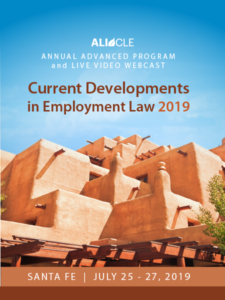 Santa Fe, NM, June 11, 2019. American Law Institute Continuing Legal Education (ALI CLE) has announced that Current Developments in Employment Law 2019 will be held on July 25-27, in Santa Fe, New Mexico. This year's conference features active and high level conversations among top practitioners and judges, providing unparalleled insight and nuance into important topics.
This year, ALI CLE welcomes several new faculty members including The Honorable Xavier Rodriguez, U.S. District Court for the Western District of Texas, Karla Gilbride with Public Justice, and Jenny R. Yang, former chair of the EEOC, currently with the Urban Institute. During this program, they will discuss the most important topics and issues confronting employment lawyers, providing practical information that can be used immediately.
New topics for 2019 include:
Pay equity
Wage and hour update
Independent contractors
Harassment in the news
E-Discovery and social media discovery developments
"Every year, the ALI CLE Current Developments in Employment Law seminar focuses the programming on the hot topics that everyone in our field is struggling with – we have the opportunity to talk with judges and other practitioners from all over the country about how they are approaching these issues and what's working. The atmosphere is collaborative and we all enjoy learning from one another in an amazing setting," said Jennifer M. Trulock, Baker Botts L.L.P., Dallas, TX.
"I speak all over the country, but the Santa Fe ALI CLE Employment Law program is unique for its intimate atmosphere and for the interactions between the attendees and the judges and other faculty. From sitting down at breakfast with faculty members to joining the barrage of written questions during presentations to having a drink with them at the reception to seeing them at performances of the Santa Fe Desert Chorale or Santa Fe Opera, and not least to the perusal of thousands of pages of well-written materials, this is the place to be immersed in the nuances of employment law. For firms large and small, this is the place to put sinews and muscles on the skeletons of our understanding. You may go home and say to yourself, "I learned so much I may have to raise my rates," said Richard T. Seymour, Law Office of Richard T. Seymour, P.L.L.C., long-time faculty member and solo attorney, Washington, D.C.
To learn more about this program and to register for the in-person course or webcast, click here.