In a very weird walk down the Yellow Brick Road to the Emerald City to ask the Wizard for new clients and matters, members of the executive committee of Gale, Scarecrow, Tinman and Lion, LLP, a 100+ lawyer firm are chanting "Pandemics, Politics, and Recessions, Oh my," over and over again through their masks.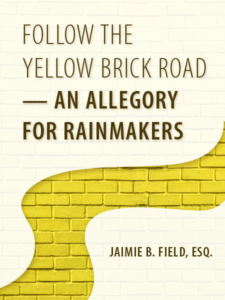 James Scarecrow, highly educated and one of the smartest lawyers on the committee, puts his finger to his forehead and thinks out loud: "The pandemic has forced us to think outside the box. We need to find new and creative ways to get new clients and matters."
George Tinman, the attorney on the committee with the biggest heart, says: "Our clients want to know we care about them. Empathy! If we can reach out to our clients, one by one, and find out how we can help them, and not just with legal work, then we should be able to maintain our relationships with them, maybe even get new work. "
William Lion, who has a fear of doing the things he needs to do to obtain new clients and will use any excuse to not do the tasks necessary, turns to the group and asks: "Maybe we should go back. Maybe we shouldn't be trying to find and acquire new clients or new matters. There is a new year ahead so what's the point? I mean, the world is going to Hell in a handbasket and no one is going to want to hire us! We can always start again next year."
Managing partner Dorothy Gale, gently holding Lion's paw, says: "But Lion, if we don't move forward with our marketing and business development now, we won't have any clients in the future. And if we don't have any clients, we won't have a legal practice. We need all of our lawyers doing what is necessary to bring in new clients and matters."
Okay, maybe I am taking this a bit too far, but the point is that yes, the world has been undergoing major changes in so many ways, but that doesn't mean that people and corporations do not need your services.
---
The Practical Lawyer

CLICK HERE for the free download of the full article, which was originally published in ALI CLE's The Practical Lawyer. 
Subscribe to the print or digital version of The Practical Lawyer today.