Legal counsel often retain specialized analysts to perform valuation, damages, or transfer price analyses. These analyses may relate to disputes involving taxation, shareholder rights, condemnation and eminent domain, bankruptcy, all types of breach of contract, and all types of torts. Legal counsel may retain these analysts as either consulting experts or testifying experts.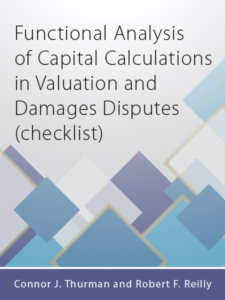 In these dispute-related valuation, damages, or transfer price analyses, the analyst typically performs some type of income-related analysis. That income-related analysis typically involves a discount rate or a capitalization rate. This article summarizes what legal counsel need to know about one important component of the analyst's discount rate/capitalization rate measurement process.
Estimating the discount rate/capitalization rate is one component of just about every dispute-related private company valuation, damages, or transfer price analysis. And, this measurement can have a material impact on the analyst's valuation, damages measurement, or transfer price determination opinion.
THE COMPANY-SPECIFIC RISK PREMIUM (CSRP) AND A FUNCTIONAL ANALYSIS
Typically, in the process of identifying and estimating any CSRP, analysts perform a functional analysis of the subject company. This functional analysis is discussed next.
The Practical Lawyer

CLICK HERE to read the full article, which was originally published in ALI CLE's The Practical Lawyer.
Subscribe to the print or digital version of The Practical Lawyer today.