You overwhelmingly asked for Nashville, and we're bringing it to you!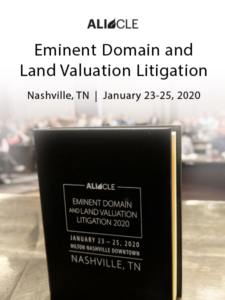 Get ready, and hold your place now: here's the list of programs and speakers for the 36th Annual ALI-CLE Eminent Domain and Land Valuation Litigation Conference, to be held at the Downtown Nashville Hilton, January 23,- 25, 2020. Two-and-a-half days with top-notch national faculty (lawyers from both sides, judges, legal scholars, appraisers, relocation experts, and others).
Early registration and group rates are available now.
Here are just some of the programs:
Featured Presentation: Property Rights as Civil Rights: Seeking Justice Though the Fourth and Fifth Amendments. Hon. Jonathan Apgar, Jamila Johnson, Alan Ackerman. Moderator: Leslie Fields.
Making Sense of the New Rules After Knick v. Township of Scott: Where Do I Go, What Do I Do? David Breemer, Smitha Chintamaneni, Professor Bethany Berger. Moderator: Professor Steven Eagle.
When A River Runs Thought It: Water Rights and Takings. Nancie Marzulla, Hertha Lund, and Charles McFarland.
Passive Takings by Government Inaction. Professor Christopher Serkin.
Show, Don't Tell: The Dos and Don'ts of Demonstrative Evidence. John Murphy, Jeffrey Hamill.
Is Close Enough Good Enough? Establishing the Date of Valuation in Direct and Inverse Cases. Neil Olson, Bill Ryan.
Creative Approaches to Solving Difficult Appraisal Problems, Edward Burg, Bob Grace, MAI, Michael Rikon. Moderator: Joseph Waldo.
All You Need is Love: New Frontiers in Alternative Dispute Resolution in Eminent Domain. Cortney Young, Dwight Merriam.
Road Warriors: Building and Trying an Eminent Domain Case From Your Laptop. Paul Henry, Jody McSpadden.
Special Benefits: The Givings Clause? Heather Cunningham, Randy Smith.
How To Try and Settle Pipeline Cases. Thomas Peebles, Melissa Glassman.
Going Where No Court Has Gone Before: The Tension Between the Courts and Appraisal Methodology. Kevin Walsh, Kannon Conway.
Responding to Project Changes: Valuing a Taking When Government Action Changes or is Ongoing. Meghan Largent, W. Andrew Gowder.
Responding to the Abuse of Motions in Limine. Anthony Della Pelle, Williams James (invited)
There's also an Ethics program. For that, we are doing something a little different this year, with a special don't-miss presentation, "Surviving the Daily Fistfight: Finding Your Resilience When Every Day is a Battle" with Clint Schumacher, Christian Torgrimson, and Michael Ryan.
And for those new to the field, or old hands who would like a refresher course, there's the "101" track on Thursday, going through an eminent domain case from A to Z.
And this isn't the complete list, and there's more on relocation, regulatory takings from both sides of the case, effective strategies to determine unity of lands, fixtures, national updates for eminent domain and regulatory takings, and the "open mike" National Forum (where practitioners from around the nation share their issues and cases).
Look for the complete brochure shortly on the Conference web page on the ALI CLE site.
And of course, there's Nashville. We're right around the corner from all that the town has to offer. Music City, USA. Hot chicken. The Grand Ole Opry. Country Music Hall of Fame. The Hermitage.
So make your flight and hotel reservations now. Don't miss out. The attendance at the last several conferences has been record-setting, and the conference block at the hotel has sold out.
Join us – old friends and new colleagues!
---
This article was originally posted on Inverse Condemnation and was written by Robert Thomas. For more information about Robert Thomas and Inverse Condemnation, visit https://www.inversecondemnation.com/.