High achievers are great targets for elder financial abusers because they can mask dementia and their egos won't allow them to admit they have it, said a former president of the American College of Trust & Estate Counsel in a wide-ranging webinar today on the exploitation of seniors.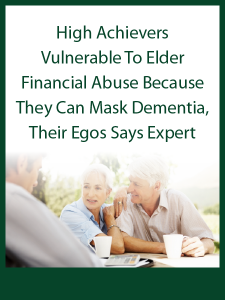 High achievers with great wealth can still operate at a reasonable level when they become cognitively impaired, but they are proud individuals who reject the notion that they may be helpless and thus refuse to let family members or other professionals intervene when there is suspected abuse, said Georgia State University Law Professor Mary Radford.
Her vitae also includes time as a Supreme Court Fellow for Chief Justice William Rehnquist.
Radford said the attractiveness of the elderly well-to-do to scammers is compounded because the richest men are expected to outlive the poorest men by 15 years and the richest women are expected to outlive the poorest women by 10 years.
In addition, Radford noted the average time between the appearance of the first symptoms of impairment to a diagnosis of dementia is 2.8 years.
For over half of a century, she said the financial resources of the elderly have grown far faster that of the young.
For people 65 and over, median household income has climbed 130 percent since 1967 compared to 18 percent for those 18 to 24.
"Individuals who are age 75 and older have the highest median net worth in our country," said the elder financial abuse expert.
She noted starting at age 65, the risk of developing Alzheimer's disease doubles every five years.
Currently 5.5 million Americans over 65 have signs of the impairment.
While calling elder financial abuse an epidemic that has increased exponentially over the last decade, she stressed there is a need to avoid "compassionate ageism."
"That "we" understand how badly you are being treated.
"We" will make your life considerably better. You are poor, lonely, weak, incompetent, ineffectual, and no longer terribly bright," said Radford quoting from an article in a gerontology journal in 1979 asserting the existence of a "new ageism."
The most used burglary tool according to Radford is power of attorney because it is so easy to obtain.
She said theft by a caregiver can be tiny such as keeping the change after buying groceries or taking a few dollars from the senior's wallet.
But she warned while the thievery often starts small, it can grow over time.
"One prevalent tactic is stealing checks from the back of the victim's checkbook so that the missing checks often go unnoticed," Radford said.
A good way for seniors to uncover this abuse is for them to check their bank statements every month, she explained.
She said another avenue of theft is the unauthorized use of ATM cards and credit cards.
To protect against this form of theft, the elder abuse expert said TrueLink and other companies allow for a customized debit card that limits withdrawals, prohibit online spending and block international transactions.
In addition to caregivers, Radford said financial advisors are also common abusers.
Some of the tricks of the trade:
—-Selling an annuity with a 25-year payout to an 89-year-old.
—- The "Source Credibility" Tactic—trying to build credibility by claiming to be with a reputable firm or to have a special credential or experience. "Believe me, as a senior vice president of XYZ Firm, I would never sell an investment that doesn't produce."
—-The "Social Consensus" Tactic—leading would-be victims to believe that other savvy investors have already invested. "This is how ___ got his start. I know it's a lot of money, but I'm in—and so is my mom and half her church—and it's worth every dime."
—-The "Reciprocity" Tactic—offering to an existing or prospective elderly client a small favor in return for a big favor. "I'll give you a break on my commission if you buy now—half off."
—-The "Scarcity" Tactic—creating a false sense of urgency by claiming limited supply. "There are only two units left, so I'd sign today if I were you."
She said seniors should be cautious about answering the phone, pointing out caller id spoofing apps allowing crooks to appear as government agencies or trusted businesses and persons can be had for as little as $8.
Red flags of elder financial abuse range from unusual investment activity such as liquidating a portfolio or changing investments to unusual activity in bank accounts such as sudden withdrawals or transfers of large sums.
Lawyers and those who look out for the interests of seniors should also watch for withdrawals from automated banking machines when the elder is homebound, online transactions if a senior has no computer, she advised.
Other tell-tale signs of potential financial abuse Radford cited include suspicious signatures, a caregiver or provider who tries to isolate elder from other relationships, and payments to individuals, businesses or charities that are "out of character" compared to the elder's previous spending habits.
She said bogus charities pretending to help veterans have been particularly successful at separating seniors from their money.
Radford warned seniors who enter sweepstakes can be put on "Sweepstakes Lead Lists" of victims and potential victims that are shared among scammers and call the prey again and again.
She urged attorneys on the webinar sponsored by the American Law Institute Continuing Legal Education to learn the basics of how to screen elderly clients for cognitive decline.
But she cautioned that what appears to be dementia may not be such as reactions to medicine or a urinary tract infection.
---
This article was written by Ted Knutson and originally published by Forbes. To learn more about the author and Forbes, please visit forbes.com.