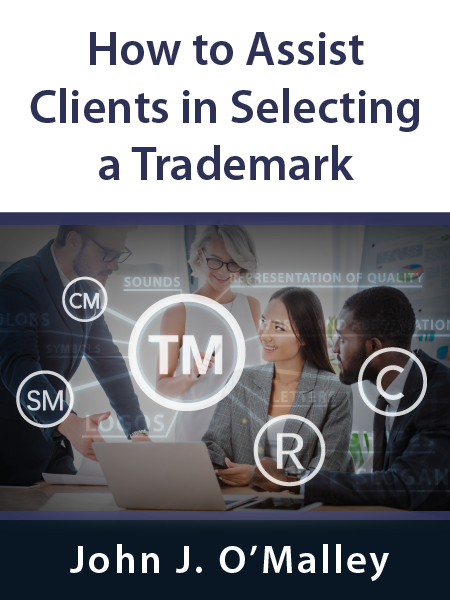 A distinctive trademark in a competitive marketplace can be one of a company's most valuable assets. It not only indicates the source of a good or service, but also differentiates the good or service from that of other competitors. Separate and apart from its value as a source indicator, trademarks can also be used as collateral to secure loans or to form the basis of corporate acquisition strategies.
Like the valuable assets they are, trademark rights should and can be protected. Resultingly, common law, state law, and federal law provide a means by which trademark rights can be acquired, maintained, and protected. So, what exactly is a trademark? The term is often used broadly and interchangeably to refer to almost any type of mark, however, technically speaking, trademark includes any word, name, symbol, device, or any combination thereof used to identify and distinguish goods or products, including a unique product, from those manufactured or sold by others and to indicate the source of the goods, even if that source is unknown (e.g., "TESLA" for cars).1
Other types of marks also include: (i) service marks; (ii) trade dress; (iii) certification marks; (iv) collective marks; and (v) trade names.
A service mark is any word, name, symbol, device, or any combination thereof that is used to identify and distinguish services, even a unique service, of one individual or organization from those provided by others.2 It is also used to indicate the source of the services, even if that source is unknown. Titles, character names, and other distinctive features of radio or television programs can also be registered as service marks notwithstanding that they, or the programs, may advertise the goods of the sponsor (e.g., "MASTERCARD SERVICES" for credit card services).3
A trade dress is the overall impression created by a product. This can be comprised of any combination of shape, color, design (such as a restaurant), wording, packaging, or a product itself. Trade dress that constitutes product packaging may be inherently distinctive for goods or services and registrable on the Principal Register without a showing of secondary meaning. However, the features of a product's design can never be inherently distinctive and are registrable only upon a showing of secondary meaning.4 However, trade dress protection cannot be claimed for product features that are deemed functional.5 The Coca-Cola bottle design is a famous example of trade dress.
A certification mark is any word, name, symbol, device, or any combination thereof, that is used or intended to be used in commerce with the permission of the owner or another party to certify: (i) regional or other geographic origin, material, mode of manufacture, quality, accuracy, or other characteristics of someone's goods or services; or (ii) that the work or labor on the goods or services was performed by members of a union or other organization.6 For example, "TEQUILA" is a certification mark for certain alcoholic beverages originating in Mexico.
Collective marks are trademarks or service marks used or intended to be used in commerce, by the members of a cooperative, an association, or other collective group or organization, including a mark that indicates membership in a union, an association, or other organization.7 For example, the National Association of Realtors owns a number of "REALTOR" marks and permits qualified real estate professionals to use the term.
Trade name (or commercial name) is any name used by a person to identify his or her business or vocation. It is often used to refer to the corporate, partnership, or other business name. The business may, in turn, market goods or services under one or more trademarks or service marks. For example, the trade name "Microsoft Corporation" is used for the business that sells software products. Part of a trade name can also be a trademark. Under the Lanham Act, for federal registration, trade names cannot be registrable although they can be registered as trademarks if they are used as trademarks. Thus, "MICROSOFT" is a trademark, but Microsoft Corporation is a trade name which is protected under common law.
The different types of marks have different functions, some of which include their roles as source identifiers. As a source identifier, the purpose of a trademark is to indicate a common source for goods or services irrespective of whether the consumer knows the actual identity of the source. The next function is that of an indication of sponsorship or authorization.
Trademarks can also indicate a secondary source. For example, the presence of a university's logo, such as the mark and logo of the Notre Dame Fighting Irish on a sweatshirt, can signify that the mark has been licensed by the university.
They can also be used to distinguish goods or services. Trademarks are used by businesses to identify themselves and their products or services to consumers, and to distinguish their products or services from other businesses.
Lastly, they can also indicate value and image. Trademarks can create in the mind of a consumer the impression that a product has certain characteristics or value. The marks can take forms such as:
• Words and abbreviations (e.g., "COCA-COLA" or "COKE");
• Logos (e.g., "COCA-COLA");
• Representation of quality (e.g., UL certification);
• Symbols (e.g., the McDonald's Golden Arches);
• Shapes (e.g., Pepperidge Farm's Goldfish crackers);
• Letters (e.g., IBM);
• Slogans (e.g., "The Quicker Picker Upper");
• Sounds (e.g., Harley-Davidson exhaust sound);
and
• Colors (e.g., pink for Owens Corning's insulation).
The selection and adoption process can be broken up into subcategories. First, it is important to have a strong trademark. When selecting a mark, owners should do their due diligence to ensure that the mark is both strong and immediately protectable. Some of the benefits of a strong mark are: (i) they are considered inherently distinctive and are immediately entitled to trademark protection from the first adoption and use; (ii) they are generally easier (and less expensive) to register at the United States Patent and Trademark Office (USPTO); and (iii) they are permitted maximum protection in the courts.
---
CLICK HERE to read the full article, which was originally published in ALI CLE's The Practical Lawyer.
The Practical Lawyer

Subscribe to the print or digital version of The Practical Lawyer today.