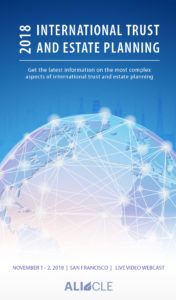 San Francisco, September 11, 2018. American Law Institute Continuing Legal Education (ALI CLE) has announced that International Trust and Estate Planning 2018 will be held on November 1 – 2, 2018, in San Francisco, California. This annual event is the premier course offering the high-level information and strategies necessary to effectively advise both U.S. and international trust estate planning clients. This course will address many perennial topics, such as the complications encountered in estate planning for U.S. clients with foreign property and the complexities of planning for foreign trusts. Additionally, it will offer an in-depth review of the factors that should be considered when providing tax and estate planning advice to wealthy individuals and families with both U.S. and foreign contacts.
Celebrating its twenty-first year, the International Trust and Estate Planning 2018 program has been re-designed with new topics and morning and afternoon sections focusing specifically on foreign related trust issues, inbound planning issues, compliance and ethics issues, and outbound planning issues. This year's program also highlights timely issues involving the consequences of the new and very different tax rules and immigration that affect U.S. persons owning property abroad or nonresidents holding U.S. assets.
Other topics to be addressed at the conference include:
Planning for U.S. clients who are beneficiaries of foreign non-grantor trusts
Consequences of increasing tax transparency and compliance for traditional international trust and estate planning
Developments in the administration of the anti-money-laundering rules
In-bound and outbound planning for individual nonresident aliens, U.S. individuals and investors
"This program has always been considered one of the best of its type, and this year will be no exception," said Planning Co-Chair, Michael G. Pfeifer, Caplin & Drysdale, Chartered. M. Read Moore, McDermott Will & Emery, and Michelle B. Graham, Withersworldwide, will also co-chair the program.
To learn more about this program and to register for the in-person course or webcast, click here.