Generally speaking, inverse condemnation is a cause of action against a public entity when a taking of private property has occurred without a formal exercise of the eminent domain power. The proper way to raise that cause of action varies from state to state. The majority of states allow separate claims to be brought for inverse condemnation, though the statutes of limitation vary greatly. Some states allow inverse claims to be brought as counterclaims, and others either require or allow the affected property owner to file a mandamus action for the government to institute condemnation proceedings. Generally, most inverse condemnation claims are based in state constitutions and therefore are not barred by statutory notice provisions or sovereign immunity.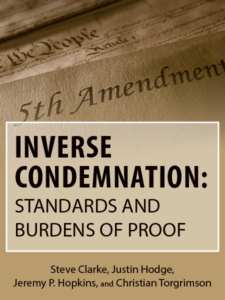 Some jurisdictions have fee-shifting provisions that apply in the event of a successful inverse condemnation claim. These statutes can lessen the burden on an individual property owner to file an inverse condemnation action.
BURDENS OF PROOF
While most states recognize inverse condemnation claims for both taking and damage claims, a minority of states only allow inverse condemnation claims when there is a physical invasion. Most require some affirmative action from the government that leads to the damage claimed. What types of damages are compensable remain varied. For instance, some states recognize damages for impaired access, while others do not. Damages must be proved by the property owner, and are generally established by the loss in fair market value before the action constituting inverse condemnation and after. Some states also allow damages for expenses incurred in mitigating damages, or for pre-condemnation damages that accrued before the condemnation was filed. Inverse condemnation can be a powerful tool for property owners whose properties are damaged. For example, in a 2019 unpublished opinion, the Michigan Court of Appeals held that inverse condemnation was a proper claim for Flint property owners who had received contaminated water.
---
The Practical Real Estate Lawyer
CLICK HERE to read the full article, which was originally published in ALI CLE's The Practical Real Estate Lawyer.
Subscribe here to the print or digital version of The Practical Real Estate Lawyer today and get hands-on advice and solutions to real estate law dilemmas.
---
Interested in hearing more from the authors?
Join us for our upcoming program, Eminent Domain and Land Valuation Litigation 2022 either in-person or via live webcast from January 27-29! Hear more from Steve Clarke, Justin Hodge, Jeremy P. Hopkins, Christian Torgrimson, and more experts in the field. Learn more about this upcoming program here.