I like to consider myself an isolation expert. Friends who look at my social media accounts may be surprised to hear this because most of my posts feature concerts, dinners with friends at restaurants, or social or business gatherings that I've attended (everything we aren't supposed to be doing right now). However, 15 years ago, I was diagnosed with Acute Myeloid Leukemia (AML) and spent a year in isolation. Because of my immunocompromised state, I couldn't work, go to the movies, or spend time in any public places. I also had to strictly limit the number of people I interacted with in-person and take every precaution to ensure they would not pose a risk to my health. Sound familiar?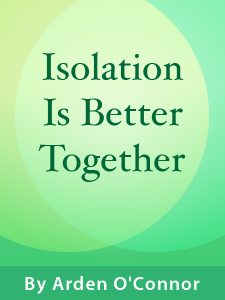 These restrictions took effect when I was 27 years old, and I cried more when the doctor described this "year of isolation" than when I got my official leukemia diagnosis. At that time, my life centered around work (I ran a home for older foster care youth) and socializing (there wasn't a restaurant, music venue, or bar that I didn't want to explore). I had no interest in domestic hobbies: I didn't cook, do anything involving crafts, and rarely read books. I was devastated as my social and professional life went up in smoke, but my doctor was firm about the restrictions.
During that year, I had plenty of "pity party" moments. I was upset when I couldn't attend an event or go to a family member's wedding. I felt trapped knowing my mom could go to a coffee shop and order a latte, and I couldn't. I craved "normal" stories from my peers about their work projects or the dates they'd been on and, simultaneously, felt frustrated that I wasn't able to tell these stories myself. I would get sad thinking about everyone else's lives moving forward without me. I felt like I was living in a bubble watching everyone on the outside continued with their glorious lives.
On the flip side, I also had many "aha moments" that year. I tried a whole bunch of new activities – from needlepoint (not for me), to cooking (which I loved), to video games (hours upon hours lost on Diner Dash). I learned how to allow myself to rely on the support of others. I experienced new and deeper ways of connecting with friends and family. I even wrote a document summarizing my experience, which I still share with other cancer patients. Many of my recommendations in that document are eerily similar to blogs that are in the media now on how to cope with coronavirus (i.e., exercise, organize your home, find a new online class).
There was a big difference for me between being isolated as an AML patient and now being one of the millions of people practicing social distancing or on a 'shelter-in-place' order. I felt alone as an AML patient. With COVID-19, we are all in this weird "limbo-land" together. While there are many uncomfortable realities that we are all facing, I've been positively encouraged by the creativity of my community to use this time to stay connected and help one another. In the past week, I've seen the following:
A work colleague organize a virtual "concert"
My alma matter (HBS) coordinate a series of webinars for leaders managing during times of crisis
A group of women CEO's collaborate on a weekly Zoom call discussing best practices they use at their respective companies during this crisis
Family, friends, and dogs celebrating good weather on Nahant Beach, while maintaining safe distance
Personally, I am committing to a few new habits while there is more downtime. Since I learn through examples, I've shared my commitments below in case they spark any ideas for you:
Recommitting to daily (ideally twice daily) meditation
Taking time to read and write for work and pleasure
Varying my exercise routine and sticking to six days per week
Exploring new, virtual opportunities to support clients during this transition
Using zoom calls for professional meetings AND interactive dance parties
Doing one kind thing per day for someone
Spending time looking at my "commitments" and making sure they are meaningful to my work or my soul
Would I have gone ahead and done these activities without this enforced period of isolation? Possibly…but probably not. I believe that right now, we have an opportunity to gain in ways that we would not have otherwise. Especially, if we can allow this time of "isolation together" to bring us closer to family and friends, drive creativity in solving business challenges, and push us into greater alignment with our priorities.
---
This post was written by Arden O'Connor of the O'Connor Professional Group. To learn more about the author and O'Connor Professional Group, please visit oconnorpg.com.