ALI CLE is pleased to announce the addition of keynote speaker and President Emeritus of The College of William & Mary, W. Taylor Reveley, III, to the agenda of Eminent Domain and Land Valuation Litigation. President Reveley's talk on "Property Rights: Foundation for a Free Society" will kick off this nationally acclaimed conference on January 24-26, 2019, in Palm Springs, California.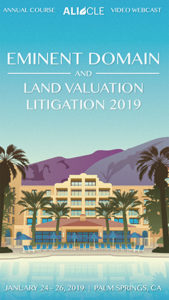 Law professors, government officials, members of the judiciary, and private practitioners make up Eminent Domain and Land Valuation Litigation's respected faculty. This conference offers dual tracks, as well as more introductory-level presentations, so that attendees can create customizable experiences through the unique curriculum.
"Not only does this conference bring together the national experts on the cutting edge of eminent domain and related topics under one roof," said planning co-chair, Robert H. Thomas, "we pride ourselves on our welcoming environment, with multiple networking opportunities for you to get to know your colleagues one-on-one."
The program is designed to provide attendees with the opportunity to explore a full-range of cutting-edge issues while networking with faculty and colleagues from across the country. Just some of this year's topics include:
Flood, wildfire, and other inverse cases
Pipelines, challenging the take, and compensation pitfalls
Eminent domain and takings misinformation in the media and social platforms
Fence and wall condemnations
The impact and valuation of power lines in partial takings
To learn more about this program and to register for the in-person course or webcast, click here.
[line]