American Law Institute Continuing Legal Education (ALI CLE) has announced that Life Insurance Company Products 2018: Featuring Current SEC, FINRA Insurance, Tax, and ERISA Regulatory and Compliance Issues will be held on November 7 – 9, 2018, in Washington, D.C. One of the few conferences of its kind, this program analyzes emerging issues in life insurance products and related offerings, comprehensively discussing design, distribution, advertising, regulation, and enforcement developments.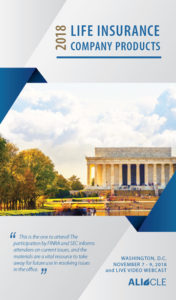 The Life Insurance Company Products program features a dynamic faculty including practitioners, government enforcement and investigatory representatives, and insurance industry professionals. Perennial topics will be examined by the faculty, in addition to hot-button issues challenging insurance professionals today. Keynote speakers include Dalia Blass, Director, SEC, Division of Investment Management, and Maria T. Vullo, Superintendent, New York State Department of Financial Services. In addition to premium content, this course offers attendees the opportunity to network with fellow practitioners and leading faculty from across the country, including agency representatives.
Conference topics include:
SEC's new summary prospectus disclosure framework for variable insurance products
Competing standards of conduct for financial intermediaries under the SEC, DOL, NAIC, and New York regulatory frameworks
ERISA and federal income tax developments, including ERISA compliance issues
Disruptive technologies in the life insurance industry, related regulatory issues, and product effects
SEC and FINRA staff insights on current compliance examination priorities and recent enforcement actions
"With a wealth of hot topics and a stellar faculty of thought leaders, including prominent federal and state regulators and industry leaders, attendees will find this year's conference most worthwhile." said Planning Co-Chair, Stephen E. Roth of Eversheds Sutherland (US) LLP. Stephen is joined by long time Co-Chair Richard T. Choi, of Carlton Fields Jorden Burt, P.A
This ALI CLE program is nationally accredited and offers CLE credit and CPE credit to those who attend in-person or via live video webcast. To learn more about this program and to register for the in-person course or webcast, click here.