Washington, D.C., October 4, 2019. American Law Institute Continuing Legal Education (ALI CLE) has announced that Life Insurance Company Products 2019: Featuring Current SEC, FINRA, Insurance, Tax, and ERISA Regulatory and Compliance Issues will be held on November 6-8, in Washington, D.C. This year's program provides a 360 degree review of the industry landscape with nuanced discussions of each topic from government, industry, and private practice perspectives.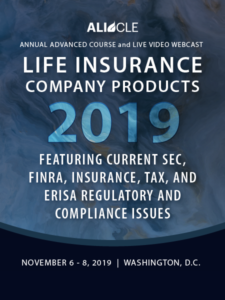 This year's panel features new and diverse speakers, with nearly half of the faculty coming from federal and state regulatory and enforcement agencies. Highlighted speakers include: Dalia Blass of the U.S. Securities and Exchange Commission, Eric A. Cioppa of the Maine Bureau of Insurance, and Robert Cook of the Financial Industry Regulatory Authority.
Topics of discussion include:
New SEC regulation best interest and competing state standards of conduct
Key SEC disclosure, regulatory, and accounting developments
Trending insurance product designs
FINRA advertising, social media, and regulatory updates
Key DOL and federal income tax developments
"This year's conference will be exceptional, with more than 40 distinguished federal and state regulators and industry professionals providing a wealth of instruction and practical insights on the key issues of the day," said Planning Co-Chair Richard T. Choi.
To learn more about this program and to register for the in-person course or webcast, click here.