THE ONGOING CHALLENGE OF LAWFIRM GENDER DIVERSITY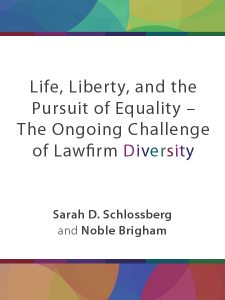 Justice Ruth Bader Ginsburg was first in her class at Columbia, a distinction she achieved while also helping her husband with his coursework, taking care of her daughter, and getting very little sleep in the process, but it was impossible for her to find a job at a New York law firm after graduation. "I had three strikes against me: one, I was Jewish. Two, I was a woman. But the killer was I was a mother of a four-year-old child," she recalled in an interview in 2016. So she built her career with a hard-won clerkship and by teaching law school. And beginning in the 1970s, she led major women's rights cases for the ACLU, winning five of the six she argued before the Supreme Court and combatting discrimination on the basis of sex.
Some of Ginsburg's biggest achievements in the fight for gender equality from the advocate's side of the bench came through representing men. She realized that advancement for women was largely contingent on breaking not just stereotypes about women but stereotypes about men, as well. If men are not encouraged to assume responsibility for things like childcare, housework, and other emotional labor, then it all falls on women. A brilliant strategist, Ginsburg also understood that an all male panel of Supreme Court Justices might be more sympathetic to the plight of male plaintiffs.
Though the legal field has come a very long way since Ginsburg graduated from law school, women are not yet on anything resembling an equal playing field. Female attorneys comprise only 18 percent of equity partners even though they represent about 47 percent of law school graduates.2 Their careers are often sabotaged if they choose to have children, reduce their schedules, or participate in non-billing initiatives. In addition, they face pernicious bias in firms that are still frequently old boys' clubs.
The Practical Lawyer
CLICK HERE for the free download of the full article, which was originally published in ALI CLE's The Practical Lawyer.
Subscribe to the print or digital version of The Practical Lawyer today.