Did you know that there is an entire week dedicated to the advancement of estate planning?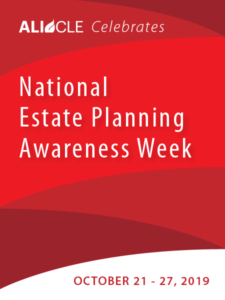 National Estate Planning Awareness Week was established in 2008, initially spearheaded by the National Association of Estate Planners & Council (NAPEC) to help the public understand why estate planning is such an important part of financial wellness, and was officially enacted when Congress passed H.Res.1499, designating the third week in October as National Estate Planning Awareness week. This week "encourages the distribution of estate planning information by professionals to all Americans."
However, even though National Estate Planning Awareness Week has been established for over a decade, the stark reality is that an estimated 56% of Americans don't have an estate plan.
So how can you celebrate National Estate Planning Awareness Week? This week gives attorneys an opportunity to educate their clients about not only the importance of estate planning, but also the fact that estate planning isn't just for the wealthy – it's for everyone, and can ultimately protect the client, their family, and their assets. By taking the time to understand their needs and goals, explaining that regardless of the size of an estate, passing along assets to people you care about can be made possible, attorneys will help ensure that important belongings are passed in accordance with their wishes.
Take this week to educate your clients on the importance of estate planning for the protection of their assets for their beneficiaries. To help you get started, take advantage of this free article: Incentive Trusts and Planning Across Generations (with Sample Provisions).
---
Interested in expanding your knowledge about the estate planning practice area? Click here to browse live, on-demand, and webcast CLE courses in this area of practice.