A few years ago I wrote about the law business. I recognized the positive. The law business can offer socially useful work, the opportunity to succeed on merit, and upward mobility"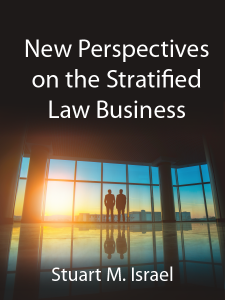 A bright, diligent, industrious C-student from humble circumstances and a law school barely noticed by U.S. News & World Report can become the respected champion of the discriminated-against or the medically-malpracticed-upon, for example, and be handsomely rewarded.
I also recognized the negative. The law business is stratified—"not as stratified as, say, pre-revolutionary France or the Jim Crow south"—but often "snobbishly cruel to those without the right pedigree." I wrote: "To paraphrase Orwell, all lawyers are equal, but some are more equal than others."
It seems I was insufficiently pessimistic. I was not fully aware of the struggles of many new lawyers looking for productive, useful, reasonably-compensated jobs or the struggles of many experienced lawyers who represent the discriminated-against, the medically-malpracticed-upon, the injured-at-work, the unfairly-traffic-ticketed, the objects of small business regulation, and other clients—many of modest means—whose vicissitudes require encounters with the law and the engines of dispute resolution.
---
The Practical Lawyer
CLICK HERE for the free download of the full article, which was originally published in ALI CLE's The Practical Lawyer.
Subscribe to the print or digital version of The Practical Lawyer today.