The National Labor Relations Act (the "NLRA") was enacted in 1935 to define and protect the rights of employees and employers, to encourage collective bargaining, and to eliminate certain practices on the part of both labor and management that may be harmful to the general welfare of the public. The NLRA defines the rights of employees to organize and to bargain collectively with their employers through representatives of their own choosing or not to do so. More specifically, the NLRA ensures that employees can freely choose their own representatives for the purpose of collective bargaining, or choose not to be represented, and establishes a procedure by which employees can exercise their choice at a secret ballot election conducted by the National Labor Relations Board (the "NLRB"). Although the NLRA has been in place for many decades, in recent years an activist NLRB has expanded the definition of activities that are protected by the NLRA and implemented new election rules that significantly impact the election process. However, the Trump era NLRB has already begun to reverse many of these union-friendly positions, a trend that is likely to continue. It is important for developers, contractors, construction companies and real estate operating companies to understand both the basics regarding union organizing and the impact of more recent developments which may affect their industries.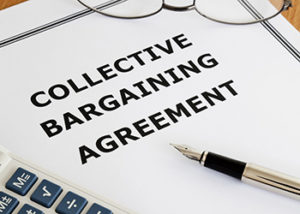 EMPLOYEE AND EMPLOYER RIGHTS UNDER THE NLRA
Section 7 of the NLRA sets forth the rights of employees under the NLRA, which include the right to self organization, to form, join, or assist labor organizations, to bargain collectively through representatives of their own choosing, and to engage in other concerted activities for the purpose of collective bargaining or other mutual aid or protection, as well as the right to refrain from any or all of such activities. Section 8 of the NLRA restricts an employer's actions, prohibiting an employer from interfering with, restraining or coercing employees in the exercise of their rights, dominating or interfering with the formation or administration of a labor organization, discriminating in regard to hiring or tenure of employment or any term or condition of employment to discourage membership in a union, discharging or otherwise discriminating against an employee because of protected activity, and refusing to bargain collectively in good faith with the representatives of employees.
THE BASICS OF A UNION CAMPAIGN AND ELECTION
While union membership has decreased in the U.S. in recent decades, unions are still prevalent in many industries and there is an ongoing effort by unions to recruit more members, including in industries and fields that have not historically been unionized. Employees may seek to join a union for various reasons, such as feeling that they are not being paid fairly and equally for their jobs in wages, salary and/or benefits, feeling that there is no opportunity or mechanism for employees to voice opinions or concerns, or believing that the employer is unfair, inconsistent in its application of policies and rules, or favors certain employees. Unions will encourage workers to unionize, promising representation on behalf of all workers. Unfortunately for employers, it is relatively easy for a union or employees to begin the union organizing process in a workplace. Employees or a union may file a petition for a representation election just by collecting signatures from at least 30 percent of workers in the potential bargaining unit, thereby beginning a union organizing campaign.
[line]
CLICK HERE for the free download of the full article, which was originally published in

ALI CLE's The Practical Lawyer.
Subscribe to the print or digital version of The Practical Lawyer today.
[line]