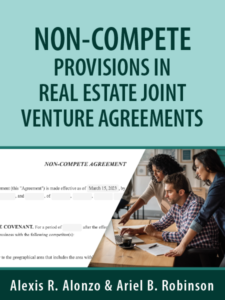 A thorny question in any joint venture relationship is to what extent the partners are permitted to freely engage in business outside of the venture that may compete with the venture. On the one hand, certain partners are likely to engage in numerous projects of a similar nature and their freedom to do so is integral to their success; on the other hand, both partners have an interest in ensuring their venture is successful without conflicts of interest or poaching from a partner's competing projects. This article provides a brief overview of how non-compete provisions in a joint venture agreement may be negotiated and structured to address these issues. For simplicity, this article will assume there is a real estate venture (JV) between an investor (Investor Member) and an operator/developer (Operator Member) that owns certain real estate (Property), and is governed by a joint venture agreement (JV Agreement). The Investor Member and the Operator Member are sometimes referred to in this article individually as a "Member" and, collectively, as the "Members."

WHAT IS A NON-COMPETE PROVISION AND WHAT DOES IT TYPICALLY RESTRICT?

A non-compete provision restricts one Member or both Members from engaging in certain activities that are viewed as competitive with the JV. The typical provision would impose restrictions on acquiring an interest in, or developing, encumbering, selling, leasing, or managing, any property viewed as competitive with the Property (Competing Property) located within a specified area (Non-Compete Area), except for the benefit of the JV. Certain other activities may also be restricted in the JV Agreement, such as: (i) self-dealing directly relating to the Property (e.g., acquiring an additional interest in the Property that is not contemplated by the JV Agreement, such as an interest in the financing that is secured by the Property, or providing services to, or investing in, a lender or purchaser of the Property); and (ii) competition relating to existing projects in which a Member already has an interest (e.g., diversion of tenants, suppliers, or personnel from the Property to such projects). In this article, we will focus solely on restrictions on activities involving new Competing Properties within a prescribed Non-Compete Area.

WHO IS SUBJECT TO THE NON-COMPETE RESTRICTIONS?

In the authors' experience, the non-compete typically applies to the Operator Member and certain of its affiliates. The Operator Member may resist being subject to a non-compete (or try to narrow the application of the non-compete), especially if the JV is investing in an area where the Operator Member is based and does the bulk of its business. Many, if not most, investor members will seek some protection nonetheless. To the extent the Operator Member agrees to be subject to a non-compete, it will try to limit those affiliates who are subject to the restrictions. From the Investor Member perspective, obvious candidates to be restricted are the parties in control of the Operator Member and those entities which are controlled by one or more of such parties. The Operator Member may also want the Investor Member to be similarly restricted. However, many Investor Members will resist any such reciprocity arguing, among other things, that the Investor Member's involvement is immaterial because if another developer will be acquiring, developing, and operating a competing project, it will do so with or without the Investor Member and its affiliates. For simplicity, this article will assume that only the Operator Member (and certain of its affiliates) will be bound by the non-compete.

WHAT IS A COMPETING PROPERTY?
CLICK HERE to read the full article, which was originally published in ALI CLE's The Practical Real Estate Lawyer.