American Law Institute Continuing Legal Education (ALI CLE) has announced that Planning Techniques for Large Estates 2020 will be held on April 29-May 1, 2020 in Scottsdale, AZ. This year's course provides the latest updates and planning strategies and will provide practical approaches and sophisticated techniques that you can use immediately.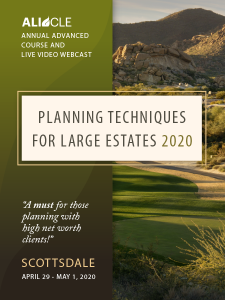 This year promises a fresh perspective with new faculty and discussions focused around trending areas such as the SECURE Act and how this new law represents a sea change in the area of estate planning for retirement benefits.
Other topics of discussions include:
Retirement asset planning
Charitable planning
Fiduciary income tax planning
International estate planning
"The political landscape is as uncertain as ever, and with such uncertainty comes the need for proactive and strategic planning for large estate clients. The 2017 Tax Act and the evolution of gift planning following such cases as Powell and Cahill have created considerable turmoil in the planning arena so now is as important a time as ever to be up to date on the planning opportunities available for your clients. This program will provide guidance and insight on many of these important issues, including planning with business entities, planning for both married and divorcing couples, self-settled trusts, basis adjustment planning, philanthropy and ethics, among other things. It is a rare opportunity to have such a distinguished faculty present such a broad array of information in this discrete setting," says co-chair Joshua E. Husbands, Holland & Knight LLP, Portland
To learn more about this program and to register for the in-person course or webcast, click here.