Boston, MA, June 27, 2019. American Law Institute Continuing Legal Education (ALI CLE) has announced that Representing Estate and Trust Beneficiaries and Fiduciaries 2019 will be held on July 18-19, in Boston, Massachusetts. This year's conference examines the shifting landscape that representatives of trust and estate beneficiaries and fiduciaries must navigate, focusing on industry practices that are, or are likely to be, the basis of conflict and challenge.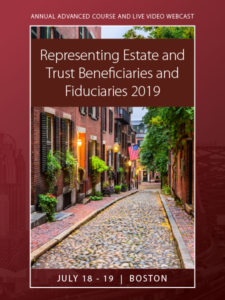 Faculty for this course includes planning chairs Glenn Dowd, an attorney whose practice involves defending employers against claims such as wrongful discharge and employment discrimination, and Lauren Wolven who concentrates her practice on estate planning, representing corporate fiduciaries, tax and succession planning for privately held business, and trust and estate administration and litigation. During this program, the nationally renowned faculty will discuss the most important topics and issues confronting this practice today.
Topics of discussion include:
The constitutionality of state fiduciary and income tax
Methods for managing difficult clients
Tax reform implications for fiduciaries
The ins and outs of changing trust situs
Using alternative dispute resolution
"The conference provides an opportunity to focus on the collision of interests between lawyers and settlors, beneficiaries and fiduciaries, and even among beneficiaries—an area often missed in traditional estate planning and trust administration programs. Those attending will witness new and vital topics in fiduciary litigation, such as the viability of tortious interference with inheritance claims and the 'ins and outs' of offshore trust disputes. Panels will take a hard look at managing difficult beneficiaries and the efficacy of changing the situs of trusts. Topics will range from new developments in fiduciary litigation to the constitutionality of state trust taxation. This course offers a learning culture: it both encourages personal connection and challenges opposing views to yield to logic-based resolution," said Planning Co-Chair Glenn Dowd.
To learn more about this program and to register for the in-person course or webcast, click here.