Historically, lawyers, especially while still in active legal practice, didn't serve on corporate boards. Boards typically preferred C-suite executives—whether retired or active—as directors. Attorneys were nonetheless often "in the boardroom" in their role as general counsel or outside counsel, but were not voting members of the board.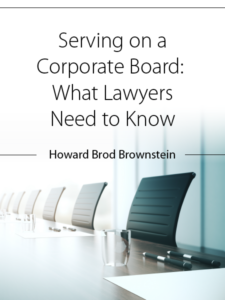 Then, beginning 20 or more years ago, as the number and size of nonprofits began to grow, there also grew a widespread perception that the corporate governance of nonprofits was more important than had been recognized previously. Lawyers and law firms increasingly made donations to nonprofits as part of their community service efforts. Lawyers began serving as active board members of nonprofits, and, more recently, on for-profit corporate boards. While there may have been concerns early on by attorneys about liability, those have largely been dealt with by indemnification and exculpation provisions in corporate charters and bylaws, as well as more robust D&O insurance coverage. Attorneys are increasingly interested in serving on boards.
A lawyer can potentially make an important contribution to a board, whether through their experience in the industry in which the company is involved, and/or their understanding of corporate governance and alertness for possible risks. It has been suggested that the growing governance and compliance obligations of companies may make having an attorney as board member a critical asset, but this argument may run counter to the ethical considerations discussed below.
The Practical Lawyer

CLICK HERE to read the full article, which was originally published in ALI CLE's The Practical Lawyer.
Subscribe to the print or digital version of The Practical Lawyer today.