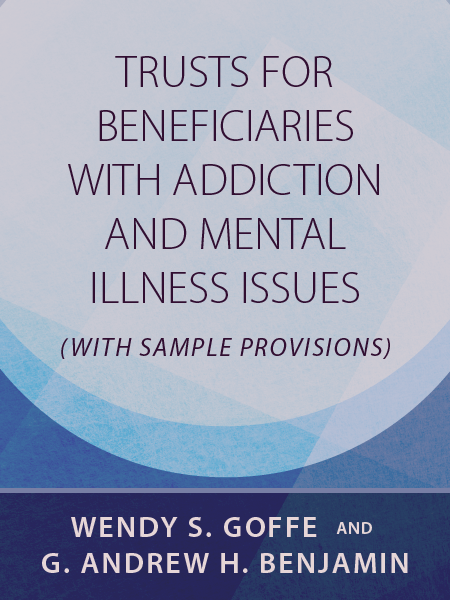 When thinking about their estate plans, parents typically want to treat their children equally. This is true even when a beneficiary is struggling with addiction or mental illness issues. Of concern are beneficiaries who suffer from addictive or mental illness disorders that are likely to recur and result in a long-enduring pattern of impaired judgments which involve repeated and significant adverse life consequences. In addition, compromised self-regulation and little self-control will result in mood shifts and instability that also contribute to impaired judgment.
HOW ARE ADDICTION AND MENTAL ILLNESS DEFINED?
When asked, a client may not disclose the subject of addiction or mental illness in their family. However, when followed up with an inquiry about whether any of the beneficiaries have shared concerns about another beneficiary because that person's behaviors would affect ongoing family relationships, clients will more readily express the views that others have shared. Any concerns expressed are likely to indicate that further inquiry should occur in order to avoid the dissipation of family wealth without adequate assessment and interventions.
According to the Substance Abuse and Mental Health Services Administration (SAMHSA) horrible statistics exist for the following disorders within the United States:1
More than 10 million suffering from opioid addiction;
More than 2 million suffering from methamphetamine addiction;
More than 14 million suffering from alcohol dependency;
More than 51 million suffering from a serious mental disorder (psychosis, bi-polar disorder, major depression, etc.).
Three out of four people with a substance use disorder struggled with both alcohol and drug use disorders simultaneously, and four percent of American adults (9.5 million) suffered from both a mental health disorder and a substance use disorder.2 In summary, in 2019 more than 61 million American adults suffered from either a mental illness and/or a substance use disorder, which was an increase of six percent from the prior year.3 The more recent estimates due to the COVID-19 pandemic suggest that a much larger significant increase in the prevalence of these disorders will occur for 2020 and beyond.
---
CLICK HERE to read the full article, which was originally published in ALI CLE's Estate Planning Course Materials Journal.