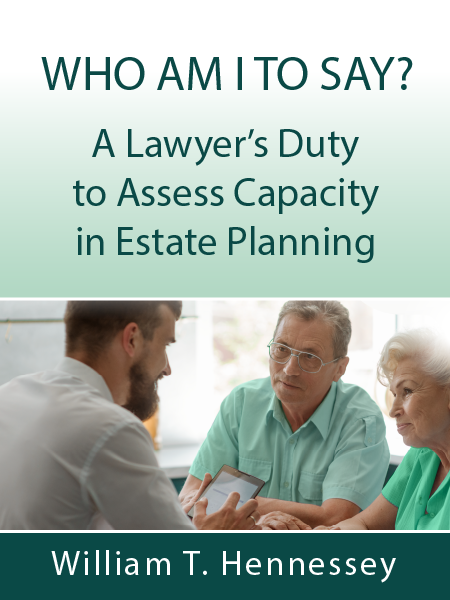 Can you prepare estate planning documents for a client if you are not convinced that the client has testamentary capacity? Do you have a duty to later advocate for the validity of the documents? This issue is subject to some debate. The American College of Trust and Estate Counsel (ACTEC) has published commentaries to the Model Rules of Professional Conduct (MRPC) addressing issues specific to estate planning lawyers. The ACTEC Commentary to MRPC 1.14 contains a detailed discussion of this tricky issue:
Testamentary Capacity. If the testamentary capacity of a client is uncertain, the lawyer should exercise particular caution in assisting the client to modify his or her estate plan. The lawyer generally should not prepare a will, trust agreement, or other dispositive instrument for a client who the lawyer reasonably believes lacks the requisite capacity. On the other hand, because of the importance of testamentary freedom, the lawyer may properly assist clients whose testamentary capacity appears to be borderline. In any such case the lawyer should take steps to preserve evidence regarding the client's testamentary capacity.
In cases involving clients of doubtful testamentary capacity, the lawyer should consider, if available, procedures for obtaining court supervision of the proposed estate plan, including substituted judgment proceedings.1
In San Diego County Ethics Opinion 1990-3, the local bar advised that "a lawyer must be satisfied that the client is competent to make a will and is not acting as a result of fraud or undue influence."2 The opinion states that:
Once the issue [of capacity] is raised in the attorney's mind, it must be resolved. The attorney should schedule an extended interview with the client without any interested parties present and keep a detailed and complete record of the interview. If the lawyer is not satisfied that the client has sufficient capacity and is free of undue influence and fraud, no will should be prepared. The attorney may simply decline to act and permit the client to seek other counsel or may recommend the immediate initiation of a conservatorship.
---
CLICK HERE to read the full article, which was originally published in ALI CLE's Estate Planning Course Materials Journal.