On December 16, 2020, the U.S. Equal Employment Opportunity Commission issued much-anticipated guidance to employers considering COVID-19 vaccination programs for their employees as to their obligations under federal civil rights laws, particularly if the employer plans to require its employees to be vaccinated. While it will likely be months before a vaccine is available to the vast majority of Americans, the guidance does shed some light on how the EEOC views questions relating to vaccination under the laws within its jurisdiction. Equally important, as we obtain new information about vaccine efficacy and longevity, distribution, and vaccination plans, it is likely the EEOC and other federal agencies will issue additional guidance, or revise guidance to reflect the most current information available.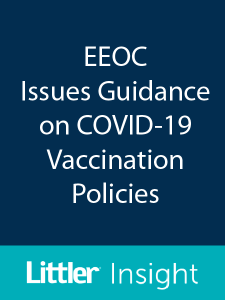 Given this uncertainty and extended timeline, it may be premature for many private-sector employers to commit to any particular "vaccination/return-to-work" policy immediately. Employers may also wish to consider whether encouraging or recommending employees be vaccinated, rather than mandating vaccination, is a viable and/or preferable alternative.
EEO LAWS AT ISSUE
Vaccination requirements implicate a number of federal civil rights laws, including the Americans with Disabilities Act (ADA), the Genetic Information Nondiscrimination Act (GINA), and the religious protections of Title VII of the Civil Rights Act of 1964 (Title VII). While the EEOC guidance does not directly state that mandatory vaccination policies are lawful, it does answer a series of questions predicated on the assumption that an employer has adopted such a policy, focusing on how an employer should respond to requests from employees who cannot or do not wish to obtain a vaccination. This suggests, at a minimum, that requiring a vaccination as a condition of returning to the workplace is not per se unlawful, provided certain conditions are met.
---
CLICK HERE for the free download of the full article, originally published by Jim Paretti, Barry Hartstein, Nancy Delogu, and Devjani Mishra of Littler Mendelson P.C.